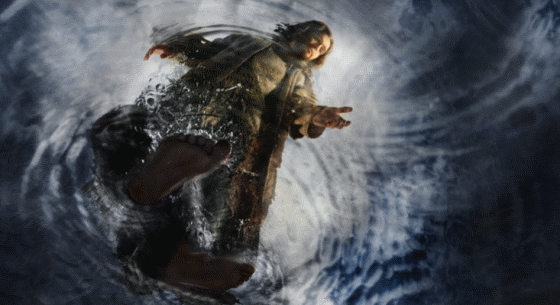 XIX Sunday OT
Fr. Ruben
Sunday, August 13, 2017
Thank you for your feedback this Sunday! I decided to post my homily upon your request. Blessings!
HOMILY (Aug. 13th, 2017)
The experience of Elijah and the experience of Peter and the disciples are connected in today's liturgy.
Elijah went outside, and stood on the mountain to see the Lord passing by. Where do we stand to see the Lord passing by? Where do we want to see him in life?
Elijah did not encounter the Lord in a strong and heavy wind, or in an earthquake or fire. He found God in a tiny whispering sound. Isn't this a powerful image?
Every Sunday, we come before the Lord, to encounter him and to ask for the grace to encounter him throughout our week. I am sure we have experienced strong and heavy winds, earthquakes, and fire, in relationships, in work, with people, and with our family, but where does the Lord allow us to encounter him in these situations?
My baby nice turned one-year-old few weeks ago. My sister recorded her first steps! It was a beautiful moment when she walked by herself toward her mom looking for safety.
Today's Gospel is very powerful in the way that Jesus wants us to find security and assurance in LIFE. We must pay attention to all of the details in this Gospel reading. They went a few miles offshore and a strong wind and waves were hammering against them. Jesus came to them. And was walking on water. What an image of God's revelation! The art of walking on water has to do with finding God in storms in life. Elijah said that God is in a tiny whispering of sound. Well, the art is in finding the tiny whispering sound in the midst of all the noise of everyday life. Everyone we faces these strong winds and the strong waves, which seem to destroy our peace, our relationships, and our life.
So when the Lord comes to us, he is our salvation! Can we identify him? Can we see him with our eyes and hear him with our ears?
The disciples said: It is a ghost! They were terrified and they cried in fear!
But is OK to experience fear and to cry out. We are human, after all, and we are flawed.
Then, the disciples heard a familiar voice (in the midst of the storm). It was Jesus' voice saying: "Take courage, it is I; do not be afraid".
And Peter does what we do in prayer many times: If it is you Lord, command me to come to you on water"
We say: if you are God, make me be this or be that, or if you are God give, change, do, act, or perform the way I want. If you are God, let me do the things that you do! But we are not God.
What a prayer or reproach. And Jesus replies: "COME" you can do it! You can walk on water. You can have what you are asking for.
Peter got out of the boat and began to walk on water TOWARD Jesus. That is the secret to the prayer: What we ask for will be granted if we walk toward Jesus, if our eyes are fixed on God. The best way to recognize the tiny whispering sound of God in our lives is to keep looking at him, to keep walking toward him, and without fear. If we take our sight away from him, we perceive how strong the wind and waves are, how difficult our life could be. We become frightened and begin to sink, like Peter.
Brothers and Sisters, if we feel like we are sinking and frightened, may our prayer today be: Lord, SAVE ME! Lord, save me!
Let's open our ears to hear the tiny whispering sound of God. Let's open our eyes to see God walking on water, walking on my own storms,coming to me and inviting me to do the same!