Live Feed

3 days ago
Hey CYM! This weekend we will have Breakfast for Dinner. Meal @ 6pm and meeting at 630pm. SrCYM will learn about thoughtful prayer and JRCYM will be helping IHMPTO with Trunk r Treat set up.

6 days ago
Hey CYM! Looks like the SRCYM had a blast at the Youth Rally. I have the music for Nov Mass posted to the website and posted links to all the past events on the website. http://www.ihmnlr.org/cym--2

13 days ago
This Sunday we will have a joint JRCYM/IHM PTO event. We will be watching Moana. JRCYM arrive at 6:00 pm (SRCYM who are not attending the SR CYM Youth rally may attend as well)
See more
News
XIX Sunday OT
Thank you for your feedback this Sunday! I decided to post my homily upon your request. Blessings! HOMILY (Aug. 13th, 2017)The experience of Elijah and the experience of Peter and the disciples are con......
read more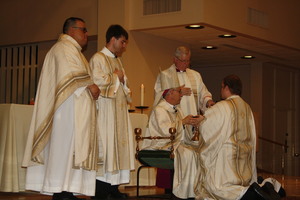 Fr Martin Siebold's Ordination
Martin "Marty" Siebold was ordained a priest for the Little Rock Diocese on May 27th. Fr. Martin has been a member of IHM since he was in second grade. While attending IHM School, he made his First Rec......
read more
SEE ALL NEWS