It's beginning to look like fall here at IHM!
kindergarten had a fun day exploring pumpkins! We used our 5 senses to learn about them, then we decorated them and tried different pumpkin treats.
PK4 learning to make pumpkins from play dough in our sensory center!
Eighth Grade got to explore the importance of words today by screaming Walt Whitman's "O Captain! My Captain!" The 8th-grade learned through this poem that words have meaning and an author's words have intention. Then, we put our studies to practice by finding the emotion in each Stanza! It was a great exercise in literature and a stress reliever at the end of the first nine weeks at Immaculate Heart of Mary.
2nd grade is reading non-fiction text about bats!
In kindergarten we have been learning all about fire safety this week. We practiced how to stop, drop and roll. We also practiced how we should crawl on our hands and knees to go under the smoke to get out of a fire.
On Tuesday the prek3 through 1st grade classes were visited by the oak grove fire department. They taught the kids about fire safety and even got to spray the hose!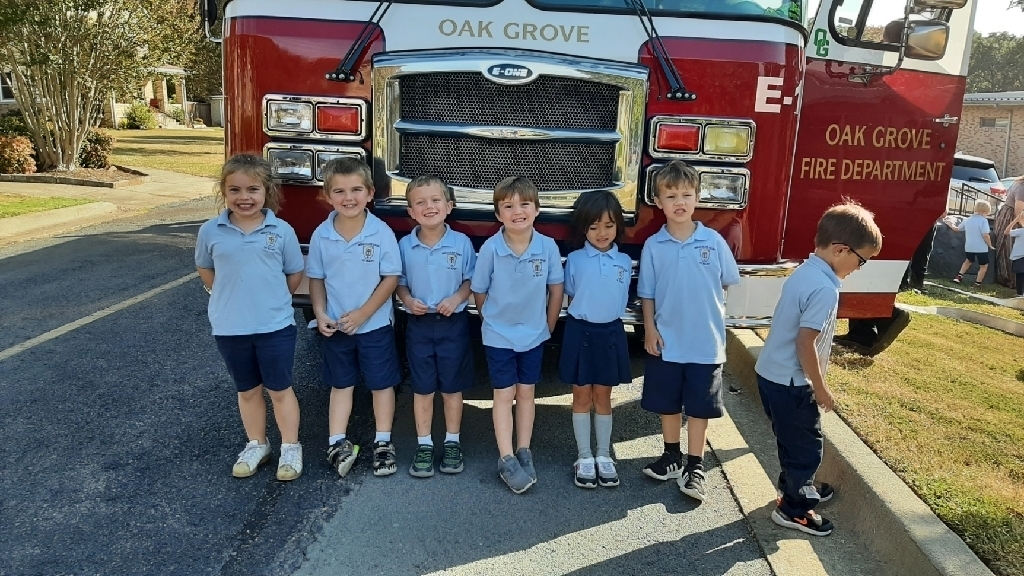 Book Fair is here! Come see us this week in the Immaculate Heart of Mary Library from 7:30-8:30 or 2:30-3:30 October 10-14!
Book Fair loading…
2nd grade has had so much fun reading Mercy Watson books. We also worked on many reading comprehension skills. We finished our unit with a special treat!
kindergarten is preparing for fall with some of our very own scarecrows.
we learned all about Johnny Appleseed and did many different apple themed activities. We did an apple number hunt, made an apple volcano, made playdough and made Johnny Appleseed hats.
We worked in groups today to find the subject and predicate of the sentence!
We are loving reading the series Mercy Watson. The main characters loves to eat buttered toast, so we enjoyed some buttered toast while we read!
We took advantage of the beautiful fall weather and brought our math lesson outside!
Today we celebrated the pinning of our new mini angels and guardian angels! After mass, PK3, PK4, 5th, and 6th grade enjoyed breakfast and a gift exchange together. This is the beginning of some wonderful friendships that will continue for years to come!
kindergarten is working very hard at learning a valuable skill of working together. They are learning to build and write CVC words.
Energy flow for the Testing flow! 8th grade got moving for testing today!
2nd and 3rd grade were excited to have a piglet visit today!! Both grades are working on a fiction and non-fiction literature unit about pigs.